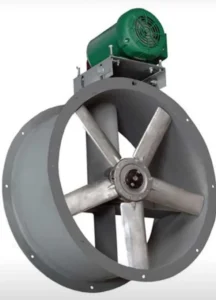 Leveraging on sophisticated infrastructure, we manufacture and supply a wide range of axial flow fans. Fabricated using quality raw material, these axial flow fans are suitable for large volume of air at high pressures. To cater to the needs of different industries, our range of axial flow fans are available in various specifications. Easily installed, these fans are known for their high performance and low power consumption. Further, we can also customized these axial flow fans as per the specifications laid down by our clients.
Fans include belt driven axial, short cased & long case, direct driven arrangements in sizes from 250mm to over 1500mm. The bifurcated fan, arrangements is available for higher temperature, corrosive or explosive duties where the motor has to be isolated from the air flow. Recalculating axial fans (RCA), are specified for such applications as ovens and kilns at temperatures up to 1100°c. Smoke and fume extract high temperature emergency direct drive axial fans are an economical proposal for fume and smoke extraction up to 600°c.
· Wheel sizes from 200 mm up to 2000 mm
· Volume flow from 800 m3/h up to 100000 m3/h
· Pressure from 5 mm up to 75 mm.
In order to select the fan that meet your requirement,
Direct Driven / Belt Driven Axial Fans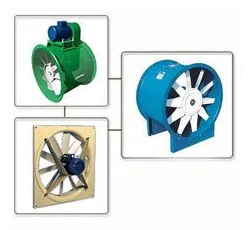 We are manufacturer of direct driven axial fans, belt driven axial fans. All the components and materials used in construction and assembly are of the highest quality to ensure many years of reliable operation. Axial fans are suitable for large quantities of air at low pressures while producing very little noise. Compared with centrifugal fans axial fans have the following advantages
Lower Price.
Reduced space requirements.
Shorter ducts, thus lowering the cost of the system.
Mounting arrangement Wall / Duct / Panel
Flanges type round/square